[Ad/Ego Home Page] [Ordering Information] MOVIE TRAILER
[T1/DSL/Cable]
[56k/DarkAges]


To Purchase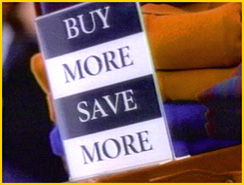 The Ad and The Ego
a bona fide
film
by Harold Boihem
DVD, 57 minutes
2011 Pricing
High Schools, Public Libraries, Churches:
$150.00 + $20 shipping & handling
Colleges, Universities and University Libraries:
$295.00 + $20 shipping & handling
DVD includes free printable Teacher's Study Guide
Additional fees apply to international orders.
U.S. orders take one week for delivery. Delivery times for international orders vary.
To order, fax or email your contact information to:
Parallax Pictures, Inc.
PO Box 881285
Los Angeles, CA. 90009
(310) 374-2228
(310) 374-2408 fax
parallaxpictures@earthlink.net
Please include:
Purchase Order (with PO number)
Institution Name
Contact person
Person Requesting DVD (on behalf of)
Shipping Address
Billing Address (if different)
Phone Number
Fax Number
email address
An invoice is included with shipment. All sales final.
Also available from PARALLAX PICTURES

The Ad and The Id
Sex, Death, and Subliminal Advertising
1992, 28 minutes

Purchase both DVDs and save!
(click box for more information)